Our LED Menu's are available cut to your design in a wide range of colours and finishes.
Our LED Menu & Poster Cases can be manufactured as Non illuminated or Back Illuminated.
Fret Cutting
Case cut to clients specific designs.
Bespoke design service available if required.
Specification
Portrait - Hinged along left side.
Landscape - Hinged along top.
90 Degree Cam Lock fitted to side opposite hinge (Std Key No FS880).
Finishes
Black
Brass polished and stove lacquered
Silver
Polished Stainless Steel
Brushed Stainless Steel
Internal White RAL9910
Non standard finishes available on request
For further information about our lanterns, please contact us...
Email us at: sales@decorlight.co.uk or call: 01952 604087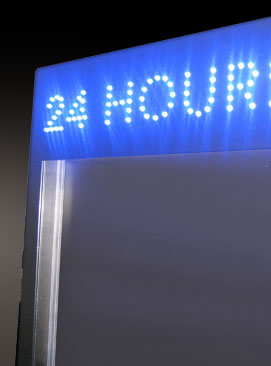 Non Standard Cases
Special sizes available to order
Rear opening chain or rod suspended units available to order
Etched logo to front face
Fret cut lettering to front face
Big top versions to take vinyl lettering